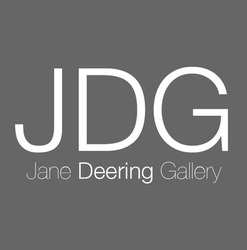 The gallery first opened in 2002 on Cape Ann in Gloucester Massachusetts in a residential setting; viewing was by appointment only. A second gallery opened in Santa Barbara, California in 2011; exhibitions continued in California through 2014. As of March 2016, JDG opened a new space in downtown Gloucester MA at 19 Pleasant Street and next door to the prestigious Cape Ann Museum. Hours: Friday & Saturday 1-5pm, Sunday 1-4pm, and by chance or appointment @ 917-902-4359. The Garage @ JDG (94 Elm Street, Concord MA) was opened in 2015. This small contemporary space is a short walk from Concord center. Hours are flexible; please call ahead. The gallery will also continue its presence on the internet via the gallery's website and images posted on Instagram.
The Gloucester gallery maintains a Flat File Project which holds works on paper by a wide range of artists. Flat File inventory changes frequently.

Announcements of works on view will be via email. To receive information about up-coming shows and special salon-style events, please ask to join the gallery's e-mail list.

JDG presents contemporary art by established and emerging artists, both national and international. The gallery has a strong interest in artists living and working on Cape Ann, Massachusetts, an area rich in artistic heritage. The superb light and rugged features of its coastline have long been an attraction for artists of international renown, among them Milton Avery, Marsden Hartley, John Marin, Arthur Dove, Edward Hopper, Stuart Davis to name a few. The contemporary work created in this area continues to be robust and innovative. The gallery also has a focus on contemporary Californian artists, and shows a selection of international artists represented by Purdy Hicks Gallery of London UK.

Several months of the year, the gallery donates exhibition space to regional artists through The Lacuna project. Please contact the gallery for information.
Exhibitions have been reviewed in the Boston Globe, Art New England, Artscope, Gloucester Daily Times, ArtWaves, Santa Barbara News Press, The Santa Barbara Independent, ArtLtd of Los Angeles. The gallery's artists are in major museum, corporate and private collections within the US and abroad.

Follow us on
The gallery website: janedeeringgallery.com
Instagram: instagram.com/janedeeringgallery

USA: 917-902-4359 US cell
UK: +44 (0) 207 584 1671

info@janedeeringgallery.com